Wisconsin Go Hiking Club

Cedarburg Bog

This page was last updated on June 22, 2006

On February 9, 2003 The Wisconsin Go Hiking Club joined the hike into the Cedarburg Bog starting from the UW Field Station.  The bog is a little bit of wilderness just north of Cedarburg.  Most of the 200 some participants went on the longer 7 mile option, including a loop through the upland forest, while the others followed a route directly into the bog.  The first photo shows a close up of the curving marsh grass with Deer Island in the background.  The second photo illustrates the narrowing frozen creek as the group left Mud Lake towards the dense growth of sumac beyond.  Many pitcher plants could be seen.  We followed the creek where the sumac is less dense finally entering the string bog and on to Long Lake.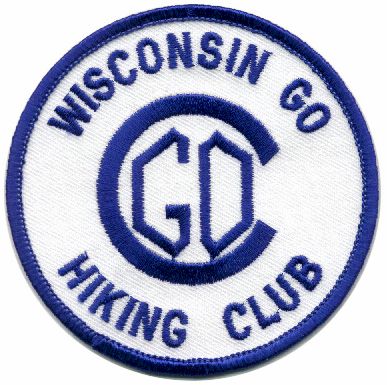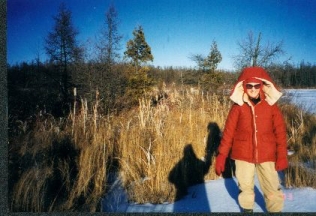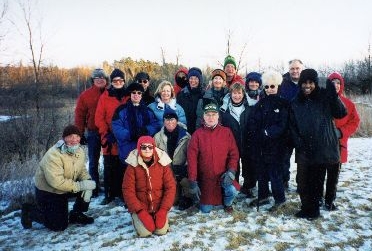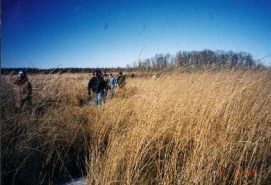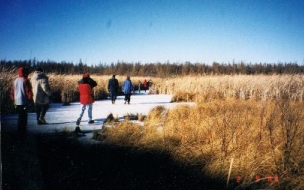 There is a small waterway connecting Long Lake to Doughnut Lake, our destination, where Lois is standing by my shadow, in front of the round island in the middle of Doughnut Lake. 

The group photo, taken at the end of the hike, did not include Joan Redmann, Ron Nacker, Nancy Bucuk, or Marcia Gundersen.  This photo was taken by the Park Ranger from Harrington Beach S.P. Ice conditions are not always as good as we enjoyed today, in fact, it was perfect!

Website developed by Debbie Kotlarek